PRESS KIT
---
Biography

Press Photographs

Acclaim

MP3 Radio Edits
---
Jazz In the Valley
Nevada pianist ships his latest album.

Reno Gazette-Journal
By Forrest Hartman
(Reno, NEV) When Nevada pianist John Shipley sat down to write tunes for his new album, he wanted to make music his 17-year-old son could appreciate. The only problem? He was working on a jazz disc.
Undeterred, Shipley did what any hip father would. He borrowed his son's copy of Tupac's "Greatest Hits" and immersed himself in the late rap star's music.
"I wanted to have that sound," said Shipley. "That more urban sound."
Although the finished album, "Shipped," isn't sitting next to music by Dr. Dre and Eminem, it sports plenty of funky moments,and Shipley credits Motown producer Greg Wright.
"Greg is responsible for creating the sound I was hearing in my head," he said.
That sound includes "It's a Street Level Life," a jazz tune that includes both soulful vocals and a rap. Shipley grew up in Reno and started with classical piano training, but he never gave much thought to a classical concert career. Instead, he found himself leaning toward improvisational genres, particularly jazz, and he spent years playing a variety of music in Las Vegas showrooms and in Southern California.
With that background, he said it was easy to write an album blending hip-hop and jazz influences.
"I think I kind of always do that," he said. "I was always the pianist who, even with classical music, would change things because I liked them better."
A founding member of the jazz group Hiroshima, he worked Asian influences into his music early on. But Shipley never reaped the rewards of Hiroshima's success. He played with the group extensively before it landed a record deal and played some on the first album, but quit before it became a phenomenon. Still, he said, that experience was crucial.
"Playing with that band really created, I think, the musician that I am," he said.
After leaving Hiroshima, Shipley remained in contact with fellow founders Dan and June Kuramoto, and both play on "Shipped."
The album is modeled, to some degree, on Carlos Santana's "Supernatural," which featured the guitarist playing with a number of guest musicians.
With that in mind, Shipley invited several well-known players to perform with him. Along with the Kuramotos, "Shipped" features Alex Acuna, former drummer and percussionist for Weather Report; guitarist Randy Hall, who worked with Miles Davis; and Manhattan Transfer's Larry Klimas.
"When you put a bunch of great musicians together, there is truly a moment that can only be categorized as magic," said Reno's Doug Collins, who raised funds for "Shipped." "We captured that."
With the release of the new album, Collins is hoping to position Shipley as a headliner of the Kenny G variety, promoting "Shipped" to smooth jazz radio stations across the country and working on a short tour. Collins said locals will be able to see Shipley perform at a CD release party, tentatively scheduled for Oct. 21. The location isn't locked in, but Collins said the Kuramotos, Hall and saxophonist Michael Lington are expected to join Shipley on stage.
He was scheduled to perform at Tahoe Jazz 2001, but that event was canceled because of the Sept. 11 terrorist attacks.
For his part, Shipley is excited to have his album in stores. For years, he made his living as a session player and by backing up headliners in showrooms, so the solo spotlight is attractive.
"I'm just watching it all happen and enjoying it," he said. "It's wonderful being in the role that I helped other people get to."
Shipley also said the new album, coupled with a decision to move back to northern Nevada several years ago, has given his work renewed excitement.
"Being here is probably the best thing that's happened to my career," he said. "For a long time I didn't enjoy music. It was a job. It was something I did to make money. … There's not much I don't like about going to work any more."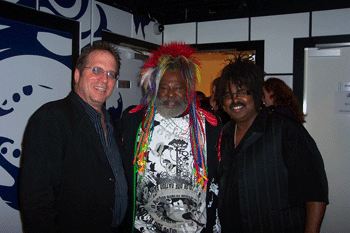 John Shipley, George Clinton & Angelo Earle after their London concert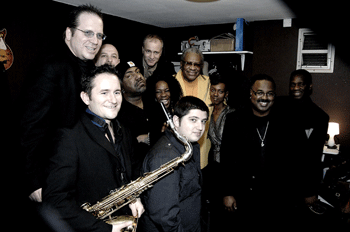 John Shipley with Jack Ashford and the Funk Brothers Band - Amsterdam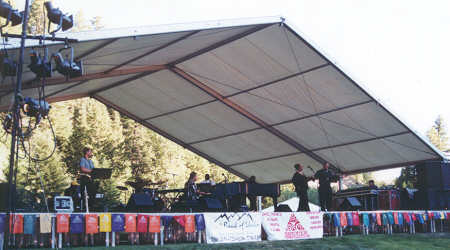 The John Shipley Band in concert, Hemingway Cabin, Sun Valley, ID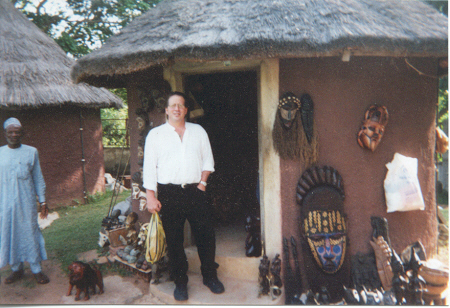 John Shipley on tour in Abuja, Nigeria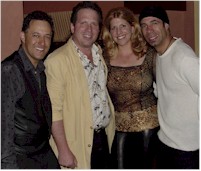 Julius Melendez (Santana), Elaine Lucia & Oscar Cartaya (Spyro Gyra)
Award winning actor Pepe Serna gets Shipped from John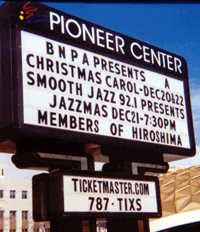 Jazzmas was performed after the cancellation of the Tahoe Jazz Festival due to the events of 9/11.